By : Andre Sooklal
Perform Sports Media Football Correspondent & Scout
BA in Sport Management
Blogger
Of course it was very difficult to narrow it down and there are definitely some notable mentions. We did our best to Narrow down the top 5 players to miss out on the World Cup 2018 in Russia; here they are!
5.) Christian Pulisic
Country : USA
Current Club: Borussia Dortmund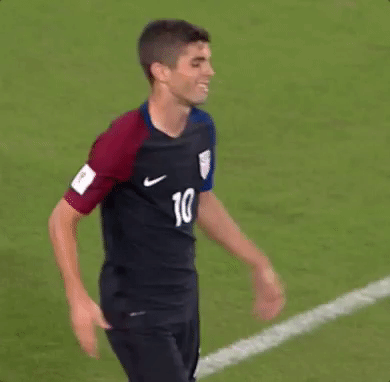 So let's face it, the USMNT are not a superpower in world football. However a player that has really stood out In recent years is the Borussia Dortmund attacker Christian Pulisic. Not many fans will remember when the United States was preaching to the world that Freddy Adu was the next best thing in soccer (Shudders) and the rest of the football world collectively shuddered and cringed at such a declaration, however no disrespect to Mr. Adu, Christian Pulisic is clearly a top quality player without question. In what was considered an abysmal World Cup campaign, which was ended in the most dramatic style by Trinidad & Tobago's Alvin Jones wonder strike, Pulisic was clearly one of the few positive things that people can look at. He is definitely the star of this current crop of US players and under the much criticized Jürgen Klinsmann era, he started to get people to take notice. The United States men's national team that has spent millions of dollars on development will now not be at the World Cup and unfortunately we will not be seeing the man that has been delighting the Bundesliga at the world stage.
4.) Giorgio Chiellini
Country: Italy
Current Club: Juventus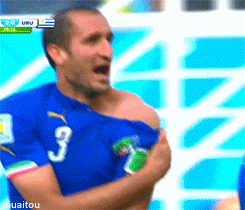 The world is still reeling from the fact that the "Azzuri" will not be at the World Cup in Russia. Italy are known for their majestic defenders such as Paolo Maldini, Allesandro Nesta and Franco Baresi just to name a few. Giorgio Chiellini is definitely a worthy addition to the list. Chiellini has been a defensive stalwart for Juventus and Italy over the last couple of years, epitomizing all the traits that make a defender great. He embodies the physical aggression character and shows the uncompromising type tackles that are associated with all great defenders; qualities that are not very common these days. In an era where defenders have many limitations as the rules of the game have evolved and defensive players are often overlooked, Chiellini stands out. So besides that fact that it is unfathomable to see Italy not at the World Cup, It is truly a shame that the world will not be entertained by one of the few defenders that represent an era of defending that we may never see again.
3.) Arjen Robben
Country: Netherlands
Current Club – F.C. Bayern Munich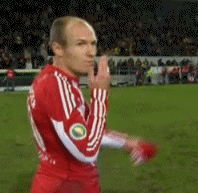 Holland, the team that revolutionized the game in the form of Total Football is not at the World Cup. Even though the production line of talent seems to have slown down, Arjen Robben is one of those players that stood out. The players post Bergkamp and Kluivert era who were apart of that "Golden Ajax" generation had major shoes to fill and Robben stepped up. The former Chelsea and Real Madrid man reached the 2010 World Cup final and was denied by a brilliant Mascherano tackle in 2014 in Brazil from making it to a consecutive final. His career has been plagued by injuries, often being called the "Glassman" by the media, but that never stopped him from continuing to be as deadly as ever on the wings. Many criticized him for having only "one foot" but what a foot it is. He has continued to torture defences, score goals and remains tremendously effective in this position. Missing out on what could also be his last world cup is tragic. Holland not being at the World Cup is a loss but what is equally disappointing is not being able to see the Bayern Munich man do his magic on the wings!
2.) Alexis Sanchez
Country: Chile
Current Club – Manchester United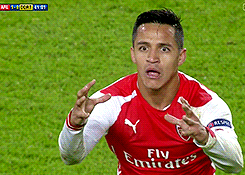 The 2 time Copa America winner and now Arsenal man with his tenacity, dribbling and free kick ability will surely be a big absence from the World Cup. Before Marcelo Bielsa took over the team years ago and revolutionized it, the World did not give Chile much of a thought until the 2010 World Cup. Bielsa brought his exciting brand of football to this team, with the then Udinese man being a major part of this exciting team. Not many people could have anticipated his growth but his exploits took him to Barcelona and then to Arsenal where he was a major component of Wenger's team. Riding on the success of the last 2 Copa Americas, the World would have loved to have seen the now Manchester United man Sanchez grace the World Stage, doing his ridiculous trademark of pulling up his shorts before his free kicks combined with his leadership qualities. Unfortunately the cruel, competitive nature of South American football has shown that despite winning back to back international titles, it was not a guarantee they would have made it to the World Cup.
1.) Gianluigi Buffon 
Country – Italy
Current Club: Juventus

What more can be said about this legend. The Juventus and former Parma man does the tradition of majestic Italian Goalkeepers justice. You may not be a fan of Italy or Juventus but I am sure the most cynical of football fans would have managed a smile when Buffon lifted the World Cup trophy in 2006.
He has successfully been able to adapt and evolve to ever changing styles of play over the years, where many have failed he succeeded. The images of Buffon giving his post match conference in tears is a sight that all football fans would sympathize with. The cruelty of him not getting to grace the world stage once last time is surely a loss for fans of the game. At the age of 39, he surely will not get a chance at the big stage again.
Author – Andre Sooklal
Twitter – @AndreSooklal
Instagram – @andresooklal
Subscribe to our #EXTV Youtube channel HERE